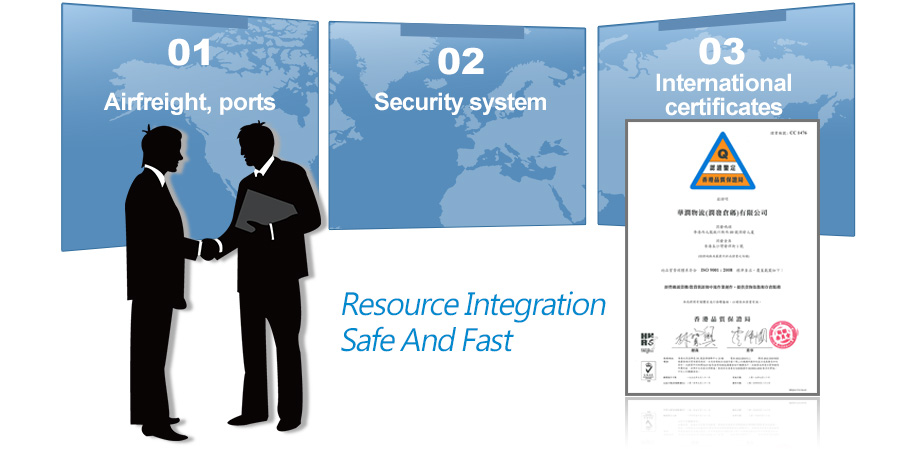 In the heart of west Kowloon in transportation
Located in Hong Kong Container Terminal at Kwai Chung and Western Harbour Crossing linking the island of Hong Kong.
Connect to Route No. 3, which takes only 30 minutes to Hong Kong International Airport
The warehouse has floor area of 40,000 m2 at 4.5m high.
Work hour :24 hours a day.
Fire alarm system linking to the nearest fire station.
Automatic spraying system
Burglar Alarm System
24-hour security patrol and CCTV monitoring system
ISO9001:2000 accreditation
Business Services in Hong Kong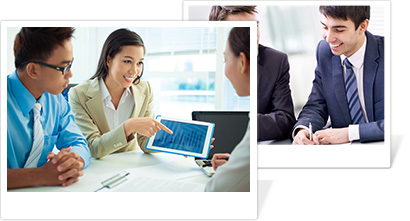 We provide services of company incorporation, collection and remittance, opening bank accounts, document transmission, and other business in compliance with the laws applicable to Hong Kong, Taiwan, and China, and help you save the high cost of company incorporation in Hong Kong.
Marine Transport and Airfreight Import/Export Service
We arrange airfreight and marine transport service for your cargo from Hong Kong to all ports of the world through way to avoid any delay and missing due to communication problems. We also support you of the triangular trade, document conversion, shipment from China with AWB or B/L issued in Taiwan, or cargos shipped to a third party company for transport.
Marine transport and airfreight import/export from Hong Kong to all ports of the world.
Marine transport and airfreight service from China to all ports of the world via Hong Kong.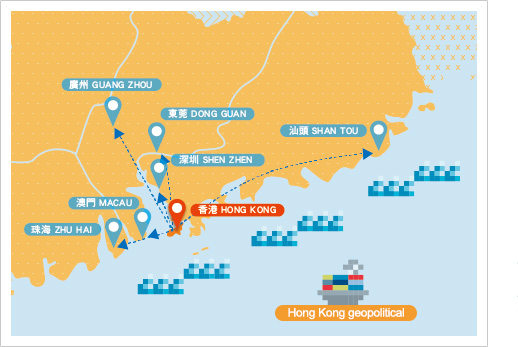 Warehousing and Logistics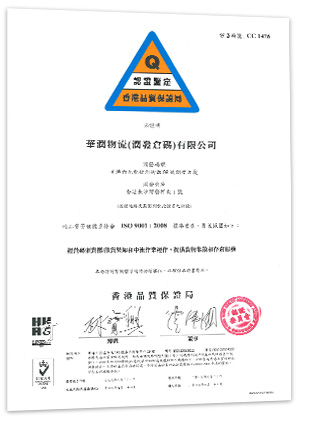 China Link has 4.5meter high , 40,000 square feet warehouse, the warehouse is staffed with almost 100 personnel and have 6 reserved loading and unloading docks. can accommodate loading and unloading of 6 container trucks simultaneously.

Secure and spacious storage facility with rapid delivery/loading and unloading service help to save time for the delivery of goods.

The logistics warehouse is accredited by the ISO 9001 system, and is equipped with ventilation and fire safety systems, CCTV and burglar alarm system. This warehouse is rated a Class A warehouse by HKFI.

The warehouse is also protected by ACE Insurance in liability with USD500,000 amount insured covering marine transport and airfreight, and land transport. Fast and secure forwarding makes China Link Transportation strongly recognized by domestic and foreign enterprises and designated as a long-term business partner.

Trans-shipment by Truck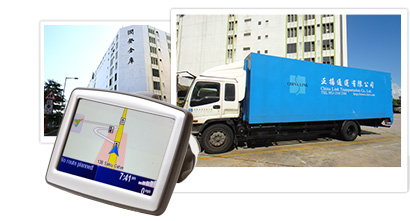 The one-stop and full-range warehousing & logistics service of import/export from Hong Kong to Shenzhen and Dongguan in China is second to none in the industry.

Cargo trucks commuting between Hong Kong and China with all transport vehicles equipped with GPS for tracking of the cargos. We also have supporting carrier to augment our transport capacity and build up an extensive transport network covering China.
VMI System for Inventory Management of Suppliers
Introduction of the Re-Tech full Web WMS System-REAPS
Electronic management of warehouse and logistics data
Remote inquiry/ordering/inventory management function available to customers
Support ERP(SAP) Portal
Support VMI management system